See Emily Stern Naked!...Who cares.
There has been some considerable on and offline buzz recently about Emily Stern's hasty departure from her role as Madonna in the Off-Broadway show
Kabbalah
, in which she appears partially nude for the last ten minutes of the satire. She has been playing the part of Madonna (yes…based on the actual Pop star, Madonna), who is one of the most visible celebs involved in this mystic Jewish form of study. Uhh…why does anyone care? Emily Stern is the 22-year-old daughter of Sirius Satellite Radio's hot property, shock jock (some would say "savior"), Howard Stern. Emily was worried that enemies of her father would distribute pictures of her on the Internet. She said, 'My father basically told me that if I take the role, that his enemies would buy blocks of tickets, throw garbage at my vagina, take nude pictures of me and put them all over the Internet.' Howard Stern has spent most of his professional career objectifying women. Now it that there is a chance that his daughter could face the very treatment that is his trademark, he has a problem. Irony meets hipocrisy.
The fact is that she has been starring in
Kabbalah
since November 2005, staged by the Jewish Theater of New York at the Triad Theater.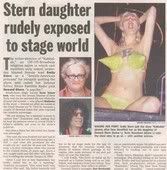 What was she thinking when she signed up? If she really didn't want to generate any publicity concerning her connection to Howard Stern, she could have used a stage name. She could have come up with some clever anagram of her name like "Tyler Misen" that would have taken everyone, but word jumble nerds, a long time to decipher. The problem with using a stage name that doesn't connect her with Howard Stern is that she cannot take advantage of his celebrity. No connection. No attention. You can't have it both ways.
Kabbalah
was described in the New York Times as "dreadful," "mind-numbing" and "in bad taste." My guess is that Emily probably realized after several weeks of starring in
Kabbalah
and underwhelming people 136 seats at a time, that it wasn't worth her time and energy and decided spin her departure into a publicity machine. The whole Madonna Kabbalah thing is only worth about a handful of one-liners at best, but an entire play?
After viewing short
video clips
of Emily Stern in
Kabbalah
that have been floating around on the Internet, I think that she should be worrying about her career. I think the best thing going for this play was the 10 minutes of nudity, the pointy bra, and the fact that people would attend because they knew she
WAS
Howard Stern's daughter. I bet that the Triad Theater could've made a killing selling kosher garbage at the concession stand during showings of
Kabbalah
.
Bottom Line: Who cares?
Has it been 15 minutes yet?