DVD Review: Lovedolls Superstar: Fully Realized
Lovedolls Superstar: Fully Realized
, the sequel to
Desparate Teenage Lovedolls
, is a Low-Budget, Post-Punk period piece that draws its inspiration from the Los Angeles punk subculture. This film is a tongue-in-cheek stab at the establishment, Rock stars, slimy record label types, religious cults, pimps, and 70's cinema. This film leaves no stone unturned in it's covertly intelligent commentary of the underground Punk Rock scene, feminism, and drug abuse. As this sequel unfolds we find lead vocalist Kitty Carryall (Jennifer Schwartz) has descended to living a delusional, hazy existence, fueled by alcohol. Alexandria (Cheeta Punkerton) is a skanky, Hollywood Boulevard bangtail, and Patch Kelly (Janet Housden) is now the leader of a troupe of mindless, acid-head, commune misfits and has transformed into a religious cult leader going by the moniker of Patch Christ. Their major objective is to stage a Lovedolls comeback. They don't settle for the usual media blitz methods, but decide to resort to swift and blinding violence, coercion and gang-knifing record company execs.
The charm of
Lovedolls Superstar: Fully Realized
is that Director, David Markey, had no grandiose intentions for the film, except to create a lo-fi, satirical, attack on a laundry list of societal issues and pop figures in the spirit of mid-80s, D.I.Y. Post-Punk, underground mindset. One of the more humorous elements was the continous parody of the 1971 film,
Billy Jack
(that attempted to make a statement about racism as far as pertained to Native Americans in the 1970s) and the hippie movement. Other funny moments include an attack by a possessed Gene Simmons (ala Kiss) doll, a swipe at religious cults and cult leaders (specifically Jim Jones and the People's Temple), and a parody of Bruce Springsteen's "Dancing In the Dark" video with the chorus lyrics changed to "Somebody just shoot me in the dark" that ends in the assination of Springsteen.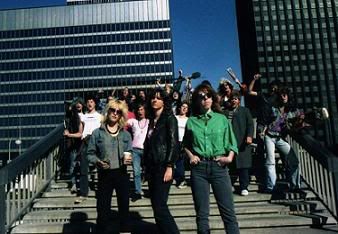 Lovedolls Superstar: Fully Realized
primary appeal is in its first-rate list of 80's Alternative/Post-Punk, heavy-hitters including: Jello Biafra (Dead Kennedys), Steve and Jeff McDonald (Redd Kross), the Meat Puppets, Vicki Peterson (The Bangles), Sky Saxon (The Seeds), and Sonic Youth. A nod goes to The Lovedolls performance of "Love Machine", which rocked more than a lot of 'real' bands, who currently try to exist in this musical space. The bottom line is that this film is an enjoyable, albeit goofy, piece of nostalgia from the burgeoning Post-Punk underground music scene of the mid-80's that will is best viewed with a bunch of your Indie music afficianado friends, a couple of cases of cheap beer, while wearing your Black Flag t-shirt. This flick will either make you want to drag all of your vintage, 80's Post-Punk vinyl down from the attic or obsessively search Web for their mp3 equivalents.
Matt "SST" Largo