CD Single Review: The Voom Blooms – "Politics & Cigarettes"
Hailing from Loughborough in the U.K., The Voom Blooms are a four-piece band that creates masterful tunes with Rock and Roll bravado that belie their experience. Having only formed less than a year ago, The Voom Blooms (George Guildford - Guitars/Vocals, Thom Mackie – Drums, Craig Monk – Guitars, and Brett Young – Bass), seem to have tapped into a musical Castalian spring allowing them to create and deliver raw energy and genuine emotion where many fledgling bands fail. Their music, rich with a keen balance of texture, space, and volume, is replete with glimpses of British Culture and eclectic cinematic references. Drawing numerous comparisons to contemporaries such as Bloc Party, Interpol, and the Libertines, The Voom Blooms have defined their own unique parcel of this genre and musical space. Their soon to be released single, consisting of two tracks, begins with "Politics & Cigarettes", a future classic rock anthem. The unassuming intro starts with two tastefully interwoven guitar riffs accented by syncopated, machine-gun snare drum fills. Guildford's passionate vocals enter the mix declaring:

You can keep all your culture
'cause we have got all our culture
and you can keep your politics
let someone else, get your kicks for you...
(without us, without her, and without...)

its awfully nice that you've stayed
its awfully nice what you've said for us
cause we all had such a beautiful start
cause we have got simple hearts.

if you just hold on, to politics & cigarettes
if you just hold on, to politics & cigarettes
if you just hold on, you'll find...
"Politics & Cigarettes" is a sonically huge song that artfully utilizes smashing dynamics and lyrical swagger to effectively convey a sense of heady, youthful defiance. Guildford says that this song was inspired by a 1978 film by Scottish director Bill Douglas called "My Way Home" and has particular relevance to today's political climate. The second track on the disk, "Thoughts of Rena," is a mid-tempo number that opens with beautifully deft, spatial guitar riffs and chunks of strategically-placed, sinewy percussion, complemented by soaring melodic vocals:
I thought of Rena yesterday,
i dont know what to say, she got me, oh oh
and i thought of Rena just a moment ago,
she's from a right small town,
where things are so-so.
I thought of Rena,
she's out with John, where'd all these townies come from?
look at em', oh oh.
As i talk to Rena, they've had enough.
Now there's a riot sound,

left, left, right, right, right, left, left.

left, left, right, right, right, left, left.

Now there's a riot sound,

think that i should walk home, yet again.

"Thoughts of Rena" is a perfect example of a song that is greater than the sum of its parts. Guildford enlightened me with the meaning behind the song:
"The song is about falling for a bird, but she's got a bloke already. When you get to the club and she's in there, all your mates are telling you not to talk to her, not to go over to her, but you cant help it, when you do the result is a scrap with some townies and a long walk home 'cause you're too broke to afford a taxi (a regular occurrence in the town we're from). It's a bit of a true story really. Some people ask what the left, left right part means. It's a reference to being punched from all directions as the fight breaks out in the club."
The Voom Blooms have been generating an enormous amount of buzz due to their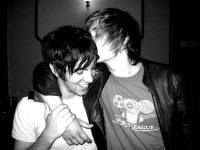 electrifying live performances. They have shared the stage with the likes of The Paddingtons and Babyshambles (ex-Libertines frontman, Pete Doherty's new band) and are slated to play some U.K. shows with Mercury Records recording artists, Boy Kill Boy, toward the end of February 2006. Their debut single
Politics & Cigarettes
will be released on Fiction/Polydor records on March 20th to coincide with their 14-date club NME tour. Armed with a cache of great songs and the power to deliver the goods, The Voom Blooms seem to be on a definite course for Rock stardom. I see an upgrade from taxis to limousines in their future.
For more information visit:
TheVoomBlooms.com
Highly Recommended.
Matt "London Head" Largo